Showing some

♥

to my favorite cutie pies:
7/1/12 - Armie Hammer
Armie Hammer in J. Edgar
All rights reserved by emrahozcan
Hmm, what to say about Armie Hammer? Well, for one, he's like a live action Ken doll with better hair. His voice is like melted chocolate without the calories. He could have sat on his gorgeous tush and lived off his father's fortune (dad is oil tycoon Armand Hammer), but instead he pursued an acting career. And, speaking of acting, homeboy has skills.
After several eclectic roles (Winklevoss twins in
The Social Network
, Clyde Tolson in
J. Edgar
, and Prince Alcott in
Mirror Mirror
), don't be surprised if Armie is the next big thing. He's my number one pick to play Christian Grey in the film adaptation of
Fifty Shades of Grey
. For now, I will just wait patiently for him to come to screen opposite Johnny Depp as
The Lone Ranger
, in theaters 2013. Masked men are my weakness.
Time to scooch over, Channing Tatum, there's a new
hotness in town.
11/21/11 - Jason Segel
There are so many reasons to love

Jason Segel

. Not only is he incredibly charming and witty, but he also loves puppets. And, I recall a

memorable scene-stealing moment

when he wasn't afraid to drop trough and shake his business for laughs. Any guy who's that comfortable with himself is okay in my book. I've been watching

How I Met Your Mother

forever, and his character Marshall just becomes more endearing with every episode. I can't wait to see him this Thursday in

The Muppets

. Move over, Kermit, there's a new cutie in town.
8/14/11 -

Jesse Eisenberg
So little time, so many cutie pies. This week, I'm digging

Jesse Eisenberg

.
After a highly successful role as Facebook King Mark Zuckerberg in

The Social Network

, Jesse has been seeing steady work, including playing the voice of Blu on

Rio

. Check him out in

30 Minutes or Less

, in theaters now. I
♥
cute, nerdy guys who have great comedic timing.
8/4/11 -

Ames Brown
Okay, it's time for me to admit my secret guilty pleasure. I watch The Bachelor. And The Bachelorette. Whew, that was like ripping off a band-aid. Anyway, I've never liked a guy from either show as much as I've liked Ames Brown. He's incredibly witty, charming and genuine. I'm not sure how someone as sweet as Ames will handle being on the less whimsical/more physical

Bachelor Pad

,

airing Monday. However, the simple addition of his presence on the show has made me set my DVR.
♥
WARNING: Don't click

here

if you don't want
to see Bachelor Pad spoilers.
Or click it if you could care less
and want the dirty LD. :)
7/28/11 - Chris Pratt
This cute-as-a-button guy plays Andy Dwyer on NBC's

Parks and Recreation

.
I'm looking forward to seeing him in this year's

What's Your Number

, co-starring his wife Anna Faris, and

Ten Year

, a a high school reunion movie co-starring the equally delicious Channing Tatum.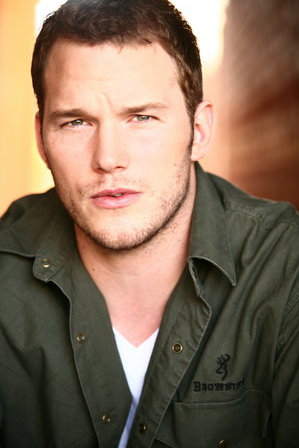 I've been in love with this dreamboat ever since his

super sexy scene

in 2005's Pride and Prejudice with Keira Knightly. Can't wait to see him in Three Muskateers 3D this October.
7/22/11 -

Anthony Mackie
This sweetness popped up on my radar when I saw him in 2008's The Hurt Locker. Looking forward to seeing him with Anna Faris in

What's Your Number

this September.
By David Shankbone (flickr) [CC-BY-2.0
(www.creativecommons.org/licenses/by/2.0)], via Wikimedia Commons
In case you didn't notice,'Ron Weasley' is all grown up. Um, yes please. :)
By John Griffiths from London, United Kingdom (Ron Weasley)
[CC-BY-SA-2.0 (www.creativecommons.org/licenses/by-sa/2.0)],
Don't forget to nominate your favorite cutie pies in the comments below...the more votes your guy or gal gets will land him or her a spot on my page. :)